---
04:44:03 - May 30 2016
I've extensively gone over SciFi Section and fixed up a lot of code. If any pages are experiencing any errors, please let me know.

Thank you.



Superior Sire


---
23:33:07 - Aug 03 2013
The honor system has been revised. Notable changes:

- Premium Members can hide honor comments.

- Honor and comments are auto-cleared after 30 days.

- Anonymous honor comments can be seen by Admins.

For a full overview of the honor system, see the Honor FAQ. Links are at the base of all honor pages.



Superior Sire


---
POPULAR MOVIES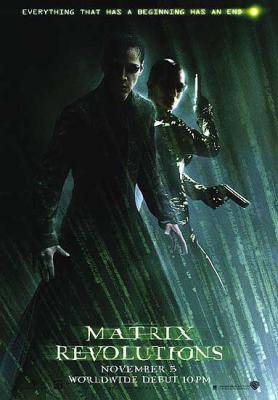 Third in the Matrix trillogy, the film's events are immediately following those of The Matrix Reloaded and assume familiarity with the story of the last two films.

As Neo (Keanu Reeves) somehow becomes trapped in a train station between The Matrix and the real world, Morpheus, Trinity, and Seraph set out to rescue him by means of the Merovingian. As this is going on, the Machines are approaching Zion with the intent of laying waste to every human there. What they do not realize is that something (Agent Smith) is taking over The Matrix with the intent of destroying everything.

After Neo is freed, he and Trinity take the Logos to the Machine City. The Machines have reached Zion and the battle of a lifetime rages on. However, there is one way to save Zion and put an end to the war: Neo. He must venture into the Matrix and put an end to Smith's evil plans once and for all. If he succeeds, Zion will live to see another day.

It's like the Oracle says, "Everything that has a beginning has an end."